Roland Hybrid tour 2013 tour diary
It's been a long time since I did a tour diary, I used to do them all the time in the early days of thisGIRL but when you've got a certain amount of tours under your belt they all start to blend in to one. As I'm just on a train returning from my first EVER drum clinic tour it feels strangely like that first ever time my band jumped in a van all those years ago. I didn't know what to expect and quite frankly the experiences of the last 2 weeks have been amazing, therefore I thought it might be nice to write about it…
The Roland UK Hybrid tour was a concept dreamt up by two of my good friends, Jules Tabberer-Stewart, Product Manager for V-Drums in the UK and Craig Blundell, drummer extraordinaire and International Ambassador for Roland. Between them they wanted to take a full production show on the road to demonstrate how Roland electronics have been adopted by so many of today's top professional drummers to take an extra electronic element to their live performance. In pretty much all modern genres of music, triggering and sampling technology is being used to push the boundaries of how amazing you can make a live show, that's where I come in! I've been using a hybrid setup for the last few years in my playing with Reverend & the Makers to pull off some otherwise impossible feats. With my SPD-SX I can trigger sounds from each one of the band's albums simultaneously while simply playing my acoustic drums. I also have access to millions of other sounds, from effects/basslines/synth lines to different drums like timbales or tablas. To trigger these sounds live I can simply hit the onboard pads on the SPD-SX or one of the additional drum trigger pads I strategically place around the kit.
But it doesn't stop there. Drummers are using Roland's new "SuperNATURAL" modules to trigger each drum in their acoustic setup simultaneously with a modeled sound from the brain. The results of this are quite frankly astounding. So with all this in mind Jules and Craig set out to design a live show that would demonstrate just how drummers are achieving these results, but also inspire more traditional drummers to think about the advantages of going hybrid.
So off it all starts when I get picked up in Sheffield by an unlikely mob of delightful and laughter inducing musos! It was the first time I had met 50% of our touring party but over the next few weeks we would all become great friends. First up we have Craig Blundell, an insanely busy pro-drummer with an insane work ethic to boot. He's grafted hard for over 30 years to become one of the most in-demand drummers in the business. His drum clinician/demonstration résumé is unrivalled and he's been a constant source of inspiration for me personally since I joined the Roland V-Drums demo team last year. Besides that he's a humble and super-nice chap who is always good value for a bit of witty banter in traffic! ;)
Secondly we have his partner in crime and similarly in demand guitarist friend Alex Hutchings. He is again an international ambassador for Roland/Boss but this time in the guitar world. I had never met Alex until we met in Sheff but I instantly took a shine to his likeable and slightly eccentric personality. From that moment on he had me in stiches and tears of laughter.
Also appearing on the hybrid tour would be the UK winner of the 2013 V-Drums World Championship, Geoff Fry. Again the first time I met Geoff, but I soon discovered him to be another great guy. After watching his first performance I was quite frankly amazed with his standard of playing. He decided to study the art of the drum solo only a few years ago and already his chops have won him the UK V-Drum crown and a heap of respect from the drum community.
The man charged with controlling this unruly bunch was my good friend JTS. I've known Jules since his time at Drummer magazine but he now heads up Roland V-Drums in the UK, something for which he has a huge passion and vision for the future. The tour was his brainchild but to make it happen he had spent the past 6 months planning, preparing and juggling budgets. In order to make it happen, Jules would spend the next two weeks working tirelessly. As well as driving, rigging staging, lighting, tour managing and liaising with dealers, he would also have to play the drums himself as part of the show. It pushed him to the edge and beyond but the success of the tour was down solely and completely to him.
So anyway, lets get started…  DAY 1 – GATESHEAD. Miles driven - 374 – Swansea-Cheltenham-Birmingham-Sheffield-Gateshead
We leave Sheffield with a modest 40-minute delay due to traffic only to find that figure skyrocket when we learn of a big crash on the A1. We manage to escape it slightly but the 3.5tonne truck with all our instruments was not so lucky. The journey up to Drum Shop for us however was a hilarious mix of discussion of the Troggs tapes (something that would later become a theme for the tour!) and numerous other subjects which some are maybe not fit for broadcast. We arrive in good spirits and a little better acquainted for the experience.
Drumshop Gateshead is our first introduction to some of the UK's stunning range of drum stores. As we walked in it was impressively decorated at a cost of thousands. Andy has the store heavily stocked and all his staff there are super knowledgeable and helpful, even enough to supply us with coffee on arrival. Thanks chaps.
The first night of any tour will always see teething problems but the delay would basically see us left with an impossible task of rigging all the equipment we had brought with us for the show. Instead we had to use a stripped down version and as a result couldn't play our impressive intro piece due to a lack of monitors. Still we continued and the crowd enjoyed a rushed but impressive set from Geoff before I took to the stage before Craig. 
This was my first ever time standing in front of a room full of drummers to talk and the nerves were unreal. I've been lucky enough to play some quite simply huge shows like Knebworth (with RHCP) or the O2, Finsbury Park, Manchester MEN, Wembley (FA Cup Final) and other similarly ridiculous capacity crowds but I've never EVER been this nervous for a gig! During my first play along piece a fault with the kick pedal means the bass drum pad disappears and the deafening volume of my IEM's means I have to take them out. Not the best start but hey, I should have checked the level during soundcheck, oh wait… we didn't get one! Haha ;) But still, I battle on and try my best to explain the Hybrid concept to the crowd. The nerves really try to take me down in flames but I put up a fight and get the job done. Everyone seems to have learnt something by the end of my set so I recap and introduce Craig. Show number one done for me but as every one advises afterwards, they all get better after this!
What Craig and Alex have come up with for this tour is absolutely amazing. This was the first opportunity I'd had to witness it, but simply put, everyone is blown away. The two guys are obviously very close friends and their chemistry on stage is electric. This isn't like any other drum clinic I've been to. Obviously it's a demonstration of musicality that can only be reached after many years of hard work but it's also a reminder that music is supposed to be fun. If you're not having fun then don't bother, that's what I've always believed and it seems Craig and Alex agree with me. The show is a mix of their original tracks mixed with a few examples of popular tracks but played with a twist. The original tracks are count and shred fests, which will hopefully see the light of day when the duo record an album together next year. The play along tracks are real world examples that using the technology on stage you can replicate an entire band sound using just two musicians armed with loop stations/sampling pads. They also show how you can use an acoustic kit to produce the pop music drum machine sound that previously would've had to come from a track. Needless to say by the close of the show everyone is Gateshead is left with minds blown, including me! 
After answering a few questions from the dispersing crowd, we all enjoy a pistonhead lager (again courtesy of Andy Drumshop) and then start to think about making a move for the hotel. It's only a short drive away but we manage to end up the complete wrong side of the motorway which only brings on more light hearted critism of Jules' driving and navigation skills. He knows we're kidding but seeing as he has driven over 500 miles today we all take pity and start to lay off a bit.. We arrive to find the receptionist completely fast asleep at his post. This causes endless amusement so we take a quick snap before rudely interrupting his slumber. Quick snack from the vending machine then we head to bed around 2am, 21 hours after Craig and Jules left home for Swansea! Long day!
DAY 2 – MANCHESTER – Miles Driven – 145
We have to be up early to grab a quick coffee then head back to Drumshop to pack down the gear. It was such a late finish that we didn't have time the night before. Dismantling the show equipment turns out to be a much bigger job than we originally thought. Craig's kit for the tour is HUGE and all has to be packed away securely to ensure it makes the show the next night. It's impossible to carry a spare of everything so any breakages could have very serious consequences to the tour. As well as Craig's kit we also have another acoustic kit and a full electronic kit to pack away. After dismantling and loading 3 kits and a huge PA into the truck we're ready for the trip to Manchester. We say goodbye to the Drumshop guys but not before Craig can't resist the purchase of a lovely Rogers Dynasonic snare from Andy's treasured vintage section.
The journey went a little more smoothly this time and upon arriving at Manchester Drum Centre the first thing we noticed was the flight of stairs to get into the store. Admittedly that's a weird thing to spot but not when you know you have to load in a huge PA system as well as lighting/stage and drums. Either way we all rolled up our sleeves and got involved. Thanks to the guys at Manc Drum for giving us a hand too…
After a good few hours of rigging all the gear we'd loaded in it came time to sound check; this is what we'd missed so much the previous day and it was good to have the Roland M-48 personal monitor systems. This meant that for the intro track we could have our own monitor mix (which we control) and adjust the levels of the different instruments to our In-Ear monitors.  This seems like a good time to explain the intro track; Craig designed it and it is mighty impressive. So we start with some playback from his SPD-SX of a play-along track and after 8 bars or so Jules starts playing a groove on a Premier Acoustic drumset. At this point the crowd are hearing an acoustic kit with a couple of mics on it. After 8 bars Jules stops playing and I take over. I'm on the TD15kv so the crowd is hearing a completely electronic setup. To accent this after 4 bars I switch the patch using an Aux pad to a patch I created myself. Instead of typical drum sounds I'm now playing sound effects. Beeps/Explosions/Screwdrivers and Machine sounds all blast out of FOH, something impossible on an acoustic kit. After my turn Craig takes over on his Hybrid kit, which is essentially a combination of the two kits the crowd just heard. By triggering his acoustic drums the TD30 module is simultaneously sending HUGE sounds to FOH, which our engineer Andy blends with the true acoustic sounds. After he's done a few bars we all come back in together to really blow everyone away.
Tonight will be our first chance to try the intro live, so we have a couple of practices in soundcheck. Without a click to accompany the playback I run into trouble for the 2nd half  of my solo when I switch the patch and play the FX. As well as the new sound I also switch to halftime, couple that with no obvious timing reference on the playback and I'm flying by the seat of my pants. The solution however was simple; Craig told me the tempo of the playback, I set that into my SPD-SX (separate to his) and routed the onboard click to a sub out. Andy then took the sub out and routed that to my ears. At this point all I need to do now is press the click start when Jules starts playing and BOOM! I have a click to play to but the rest of the room has no idea… Another example of how the technology on stage really can save you in a pinch!
After soundcheck, quick bite to eat then we come back to find the room full of punters. It's great that the tour is so well attended already even after just 2 shows. Geoff goes on and nails his V-Drums world champs solo, which pretty much floors everyone in the room! He then goes on to share some very handy practice tips, most of them I'll be adopting myself… Top job Geoff! 
Once again it's my turn and I'm definitely feeling less nervous than yesterday but that doesn't mean I'm not still bricking it. As soon as I take the stage I spot Jupp from Elbow across the room, as if I wasn't nervous enough!! Jupp is a really nice guy but also a massive influence on my playing. I'm a big Elbow fan so to see him stood in front of me and me trying to teach him something about electronics is pretty frikkin scary!
Still, I feel a lot more relaxed tonight and my list of things to cover runs a lot smoother. I talk through the concept of adding electronics to your setup and summarise on the different options in terms of sound sources. While talking about trigger outputs a punter jumps in to point out about splitting stereo in's to turn rim/head triggering into two mono single zone triggers. It's a great point made to the crowd and I thank him for the input. It's not until I check my twitter later that I find out that he is Paul Walsham; the drummer for Manchester band "Hurts". We've played a few festivals with them and I remember I saw that he was a fellow SONOR drummer so I really took notice. Needless to say he's an amazing player and another true hybrid guy. We've been in touch since so next time we meet in a field in the middle of summer we'll be having a beer together and geeking out over trigger inputs, haha! Still, goes to show you that Drum Clinics are a fantastic way to meet other players of varying levels, some even super professional like Jupp and Paul.
Once I finished my set I got a huge applause from the crowd and it seemed like everyone really enjoyed it and learnt something new. I even got a tweet from Jupp saying he'd learnt a lot so I must have done something right. Once again Craig and Alex shred the place a new one and go down a storm. Lots of people want to hang around for photos and chats after so I help a few people with tech questions and talk to a few R&tM fans.
As if we hadn't rigged and loaded enough for one day, after the show we still had to get the gear back in the truck. It was gone midnight by the time we left and we didn't arrive at the hotel until 12:30am. Despite the time we still felt like we deserved a beer after two days of graft, so the hotel bar was our destination.
DAY 3 – Manchester to Colchester – Miles Driven – 236
The next day I jump off the tour to spend a few days in the studio before meeting back up with the guys for Dublin, Belfast and Reading. Stay tuned for part 2 of this diary where I'll fill you in on the 2nd leg for me. This leg involved even less sleep and even more laughter…
Thanks for reading guys…
Sorry for the Tumblr silence…. Lots more to come over the next few days…
Sorry for the complete Tumblr silence…
Been crazy busy this year with gigs and building my own studio…
So here is a photo blog to hopefully fill in the gaps!
It's all busy busy here at ryanplaysdrums.com so here's a quick update!
Firstly thankyou to everyone who came to a show on our hugely successful album tour… Most of the shows were sold out and we really did have a blast playing for you every night. For a full picture diary head to my FACEBOOK PAGE or click on the photo below. Don't forget to LIKE the page too…
Our hometown Sheffield show was epic, so much so that we filmed our live DVD there… It's out on December 17th (just in time for Christmas!) but here is a sneak peak from the first cut we got sent… It looks AMAZING so far…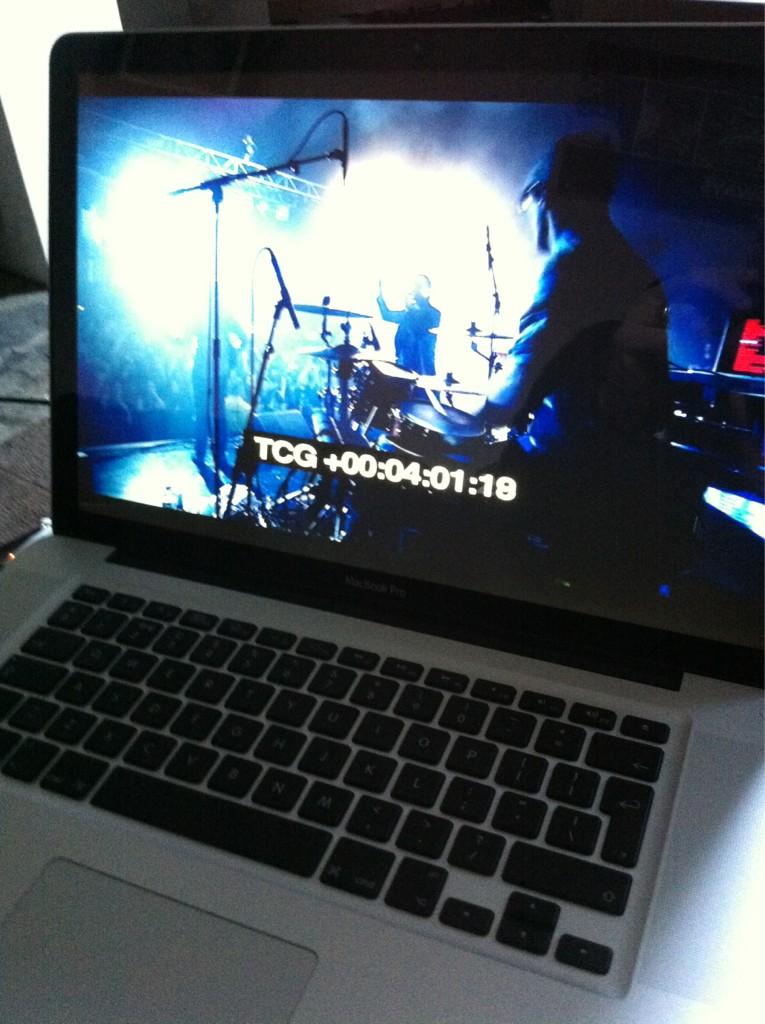 A few more shows left before I take a week off for Christmas, we have a very special charity show this evening with Jess Ennis at Sheffield City Hall. Thank you to MEINL PERCUSSION for the Cajon that I'll be sitting on..
We also have a show tomorrow for our good friend Luke Roper & LUKE 1977 at Walsall Music Festival. Thanks have to go to Luke & Martin for their continued support of the band and also the sweet garments they keep hooking us up with.
After Christmas we're all heading up to Edinburgh for their annual Hogmanay celebrations. Really looking forward to seeing in 2013 with the Maccabees and having a drink to celebrate just what an awesome year 2012 has been!
As well as my work with Rev and the rest of the Makers I've also got a couple of really exciting projects on the go….
ROLAND released the news this week that I'm going to be working closely with them to demonstrate their exciting new V-Drums range. I've been hauled up in the studio this week having a play on the TD15kv, the SPD-30 and my SPD-SX. I'm excited to be part of team Roland so I'll keep you updated on when I'll be out on the road explaining how V-Drums work.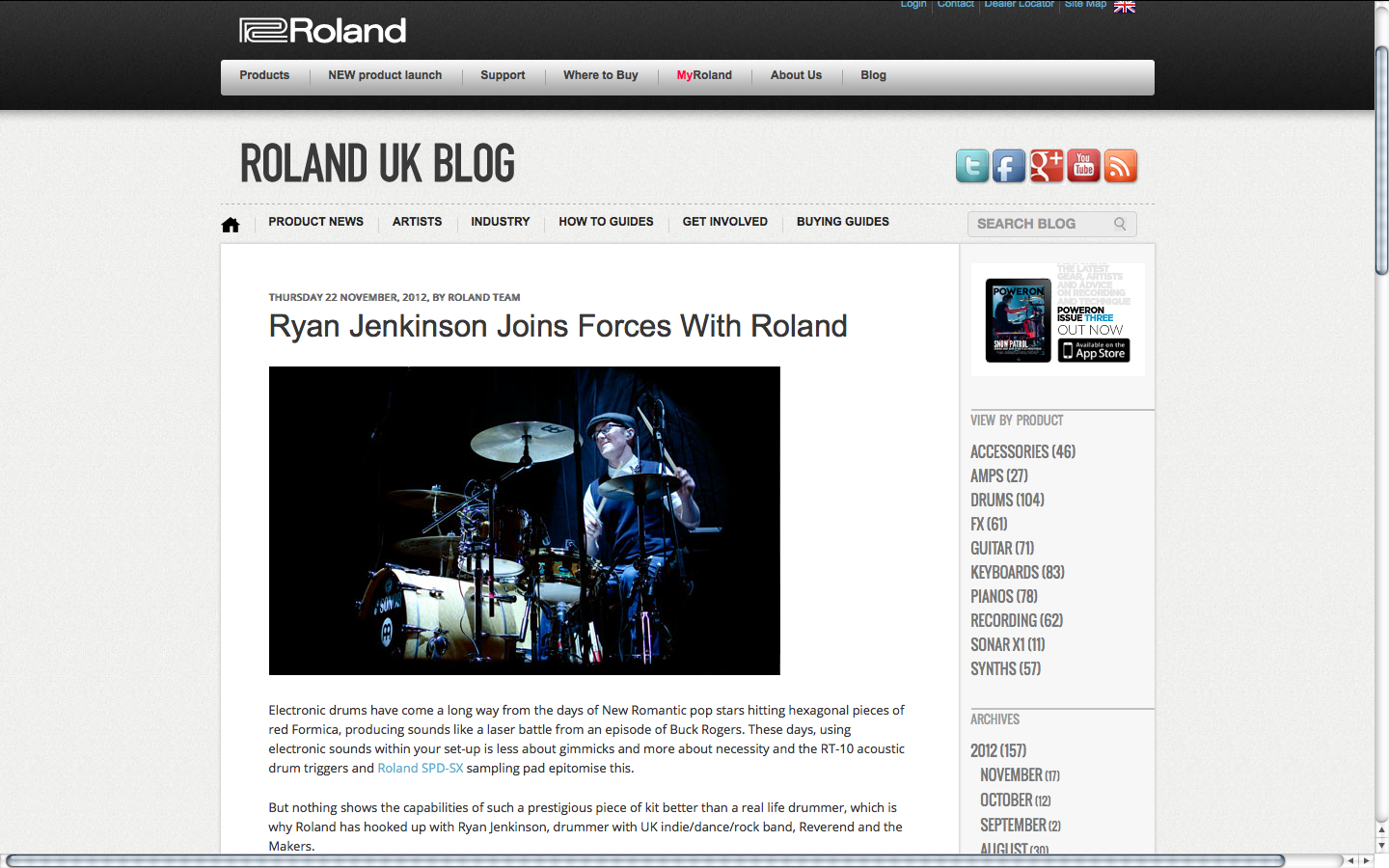 Thanks again for all the support over the last few months everyone, I really appreciate it…
Big love,
Ryan
ryanplaysdrums.com
Wow…. Its been faaar too long since an update so I'll apologise in advance for bombarding you with so much information all at once!
The reason for the lack of updates is that I've been so freakin' busy! Anyone who works in music will tell you that busy is good though so I'm certainly not complaining…

In Reverend & the Maker's camp we're preparing for our Album headline tour that starts next month. First rehearsal yesterday was trouble free and it felt good to be playing together after a few weeks away. I'm using my new Sonor SQ2 series kit for the tour although I'm still deciding which snare I'll rock. Here is a pic of the kit taken during our amazing run of festivals this summer. I'd like to thank every single person who turned out in the sun or rain to see us. We really appreciated it and had a blast playing for you lot.
…and here is a video of us supporting the Red Hot Chilli Peppers at Knebworth!!
On the tour we're playing some amazing bigger venues and we have well over an hour to come and play for you. Expect a few surprises and a pyro show courtesy of my drum tech Ost and a packet of those little bangers you chuck at the floor! I know I'm super excited and so should you be… A lot of the shows have sold out but head over to reverendmakers.com to snap up tix for one of the remaining shows if you haven't already…

@Revend_Makers Album Tour
10th October - Ku Bar, Stockton
11th October - Academy, Newcastle
12th October - Liquid Rooms, Edinburgh
13th October - Academy, Liverpool
14th October - the Ritz, Manchester
17th October - Rock City, Nottingham
18th October - Stylus, Leeds
19th October - Open, Norwich
20th October - Academy, Sheffield
21st October - Academy, Birmingham
23rd October - Concorde2, Brighton
24th October - Wedgewood Rooms, Portsmouth
25th October - Academy, Bristol
26th October - Shepherds Bush Empire, London
Before that we have a special show next week at the ROUNDHOUSE, London for iTunes festival. We'll be supporting the legends that are Madness so we're looking forward to having a boogie after to "baggy trousers"! The venue is amazing so if you are lucky enough to have blagged one of the free tickets then see you at the Roundhouse.
Anyone who caught our triumphant headline slot at Tramlines Festival will know that I'm not exaggerating when I say it was EPIC. In an effort to capture the moment we had a film company come down and point lenses at the band and more importantly the CROWD. Here is what they came up with and I think you'll agree it looks pretty cool…
The morning after Tramlines we had to drag our hungover asses into the studio to film the video for the follow up single "what goes around". You can see the results of that here too…
Lots more good news in the R&tM camp including our inclusion to the soundtrack of the new FIFA13 game on PS3/Xbox. We love a good FIFA tournament on the tour bus so now we get to listen to "Shine the Light" while I batter everyone else in the band with Rotherham Utd!! Loads of other cool bands included too so check out the soundtrack HERE

As well as my work with the Rev lot I've spent the last month incredibly busy on a few new projects. First of all I've teamed up with my homie's over at ROLAND V-Drums and I'm currently putting the new TD15Kv / SPD-30 / SPD-SX combo through it's paces. The quality of their new range of V-Drums is unrivalled and I'm really loving getting my teeth into them. More news on my official role with Roland soon but this has been my office for the last couple of weeks.
I'd also like to extend my since gratitude to all the people that make the gear I use to do my job. I've had amazing support from Sonor Drums, Meinl Cymbals, Vic Firth Sticks, Protection Racket Cases, ACS Custom In Ear Technology, Evans drumheads and Roland Electronics. I'll be using their amazing products throughout the next few months… For now here is my new signature stick courtesy of my brothers at Vic Firth Sticks.
There we go then… Told you it was a MEGA update. Check out the ryanplaysdrums.com drum tube for more videos of my playing… New vids of my Roland project will be up soon!

Thanx again for the support everyone…

Ryan
ryanplaysdrums.com

Twitter - @ryanplaysdrums
Tumblr - ryanplaysdrums.tumblr.com
Facebook - Ryanplaysdrumsrad

Youtube - ryanplaysdrumsrad
Busy busy times here at ryanplaysdrums… Sorry I've been absent from blogging but I literally have been run off my feet!

So the album came out last week and we scored a TOP 20!!! 16 to be exact! That position is purely down to all the people that parted with their hard earned cash to download/buy the record. We managed to beat other new entries from Smashing Pumpkins and Fiona Apple, two artists I have massive respect for, so if you did help to get us in the top 20 then thankyou and see you on tour in October. If you've not managed to grab a copy yet then I recommend getting the 2CD digipack as the 2nd disc is amazing and the packaging has a wonderful pic of me in a gorrilla suit. Good a reason as any surely ;)

I guess it's also worth mentioning the shows we did with the Red Hot Chilli Peppers! Those guys are absolute legends in this game and to be personally invited along to share the stage with them was quite humbling. We got to play the hallowed turf of Knebworth and also the Sunderland FC ground, the Stadium of Light. Both shows had well over 50 THOUSAND peeps in so as you can imagine it was quite an experience. I had my homie Jonny Pratt from thru a lupe photography along for the ride so here are some of his AMAZING shots. If you're anywhere near Devon and require the services on an expert lensman then give him a shout.

Another big announcement a few weeks ago was that we are headlining TRAMLINES festival!! For anyone not from Sheffield, Tramlines is our annual FREE music festival where the city literally comes alive with musical talent and hosts one giant party. There was a lot of speculation whether we would be playing this year but when the nice people who run the festival asked us to headline the main stage on the Friday night we literally couldn't say no. It promises to be a pretty special night and as the last homecoming gig at Leadmill proved, there is a lot of love for our band in our home city. So get down the front early… we'll be around all weekend to enjoy the festival so see you at the bar.

Back to current events I was recording yesterday with Lovebloods and now I have a busy rest of the week with Reverend & the Makers. We're off to the Isle of Man which is a huge pilgramage for me as I'm obsessed with the TT races. Only problem is I'm a month too late! Still, the festival we're set to play looks awesome so I'm looking forward to experiencing the famous island hospitality. After that we have some TV stuff in Devon and then T in the Park festival in Scotland. I was mega excited when we were announced on this as we play the same day as the Subways. Only problem is I found out we will arrive on site just as they have to leave so I won't get to see Charlotte : (

Other huge news is that these two shows will be the live debut for my new touring kit setup. I'll blog more about the new kit for all you drummers once we have done a photoshoot but let me just say that Sonor have raised the game with their SQ2 series. I started playing Sonor drums at 15 and have been one of their Artists since I was 17. Over the last 13 years they have been massively supportive of my music career and I really can't thank them enough. I designed the kit using the SQ2 configurator and the guys in the factory custom made the kit for me over the last few weeks. I had a pretty good idea how it would turn out but the kit is more amazing than I ever imagined…

Think that's all for now… I've got a few other exciting developments over the next couple of weeks so keep an eye out for another blog soon..

Mad love,

Ryan
ryanplaysdrums.com
Web: www.ryanplaysdrums.com
Twitter: @ryanplaysdrums
Tumblr: ryanplaysdrums.tumblr.com
Youtube: ryanplaysdrumsrad
Facebook: ryanplaysdrumsrad
B-B-B-BASSLINE by ryanplaysdrums.com
Things are busy busy here in the world of ryanplaysdrums so thought I would give everyone a bit of an update.with lots of clicky clicky links to follow!

The headline tour was amazing and thanks to every one of you that turned out to one of the SOLD OUT shows. Unfortunately we didn't make it to Sheffield or Brighton as Jon had to head to hospital to get his back sorted out. It's the first shows that the band has ever had to cancel and we apologise to everyone affected. We've rescheduled the Leadmill date to THIS FRIDAY (25th) but it is still sold out and no new tickets are available. We've got a few surprises up our sleeves so it will be one AMAZING show.

Then on Saturday we start our run of festival dates at Crooked Ways in Pontefract. We have been confirmed to play a bunch of exciting stages this year, not least a suport slot for the Red Hot Chilli Peppers at Knebworth alongside Dizzee Rascal. Full festival listings are as follows but keep an eye out as we have a few more confirming over the next few weeks.

26th May - Crooked Ways, Pontefract w/ Razorlight, Sunshine Underground
2nd June - Play Festival, Norfolk w/ Feeder, Roots Manuva
23rd June - Knebworth w/ Red Hot Chilli Peppers
24th June - Stadium of Light, Sunderland w/ Red Hot Chilli Peppers
28th June - Big D Student Only Ball, York w/Roll Deep
30th June - Greenzone Festival, Loughborough w/Sunshine Underground
6th July - Isle of Mann Garden Party w/ Charlatans, Newton Faulkner
8th July - T in the Park, Kinross w/Kasabian, Stone Roses
4th August - Y Not, Matlock w/the Subways, We are Scientists
17th August - Strummer of Love Festival, Somerset w/the Pogues, Badly Drawn Boy
18th August - V-Festival, Chelmsford w/Stone Roses, Killers
19th August - V-Festival, Chelmsford w/Noel Gallagher, Ed Sheeran
19th August - Summer Sundae, Leicesterw/Ocean Colour Scene, Asian Dub Foundation

@Revend_Makers Album Tour
10th October - Ku Bar, Stockton
11th October - Academy, Newcastle
12th October - Liquid Rooms, Edinburgh
13th October - Academy, Liverpool
14th October - the Ritz, Manchester
17th October - Rock City, Nottingham
18th October - Stylus, Leeds
19th October - Open, Norwich
20th October - Academy, Sheffield
21st October - Academy, Birmingham
23rd October - Concorde2, Brighton
24th October - Wedgewood Rooms, Portsmouth
25th October - Academy, Bristol
26th October - Shepherds Bush Empire, London

Tickets for all these shows are available online or via our website http://www.reverendmakers.com

We've already dropped the bonus disc of our new Album as a Spotify Exclusive so head to SPOTIFY to have a listen. You can pre-order the album from amazon for only £9 so support the cause and get involved. AMAZON PRE-ORDER

In the run up to the record being released you'll find more interviews dotted around the web. Here is an Acoustic track we filmed in London for the Mahogany Sessions where I traded the drums for a tube of smarties  and here is a full band feature for Exposed Magazine.

…and here you'll find two interviews more specifically about me and my role in the band. One with Nation Sheffield and one with Exposed Magazine as part of our #reverendmakers takeover.

In the drum world I've now signed with Evans drumheads and I've been using their EC/EQ/G2 series out on the road, I still continue my excellent relationships with Sonor Drums, Meinl Cymbals, Vic Firth Sticks, Protection Racket Cases, ACS Custom In Ear Technology and Roland Electronics. I'd like to thank them for their continuing support as they really are the most amazing people to work with.

So yes… check out the ryanplaysdrums.com drum tube for more videos of my playing from the February Arena Tour… I'm just editing a diary so that should be up soon…

Thanx again everyone…

Ryan
ryanplaysdrums.com

Twitter - @ryanplaysdrums
Tumblr - ryanplaysdrums.tumblr.com
Facebook - Ryanplaysdrumsrad

Youtube - ryanplaysdrumsrad